The Advance Advenger® Rider Scrubber
with REV™ Technology
While it's true that winning the 2013 ISSA Innovation Award would make any company proud, we knew that our REV Technology deserved it. Since the dawn of large-scale industrial cleaning, facility owners, managers and maintenance staffs have been searching for ways to clean faster and as efficiently as possible. They've always been looking to the future, hoping for advancements in cleaning technology. With REV, the wait is over.
The Advance SC500™ Walk-Behind Scrubber
with REV™ Technology
The first aspect of REV that we should point out is the Random Orbital Scrubbing. It uses distinct orbital and rotational motions combining microscrubbing into the main orbital scrubbing, resulting in a smooth, clean finish without streaking and in far fewer passes. Essentially, Random Orbital Scrubbing quite literally approaches dirt from multiple angles and ensures nothing gets missed. It's so effective that it can remove a floor's finish, leaving it ready for restoration in a single pass using only water. A truly impressive feat in high tech cleaning.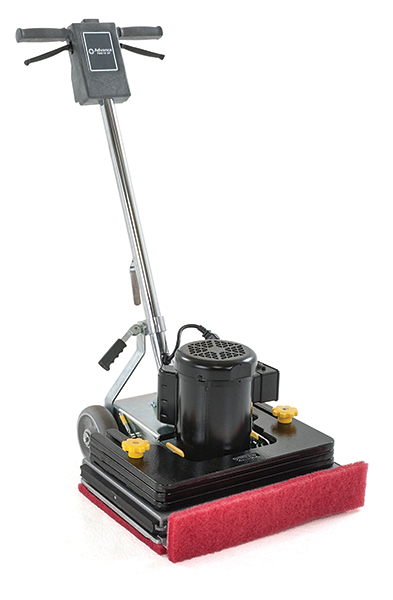 The Advance FM810™ Orbital Scrubbing Floor Machine
with REV™ Technology
REV technology not only cleans more effectively, but it also gives the operator total control over the quantity of water and chemicals that are used in any given area. This helps minimize both splashing and the amount of dumping required. This doesn't simply save the operator from unnecessary physical labor. It also prevents the unnecessary overuse of water and chemicals, making it both a wise financial investment and a responsible choice with regard to the environment.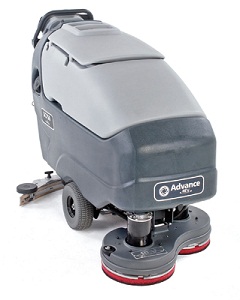 The SC750™ REV™Dual
Random Orbital Floor Scrubber
Another important aspect of REV technology is one that your facility's visitors might appreciate more than anyone. It's extremely quiet. In fact, at fewer than 70 decibels, it's no louder than the average person's speaking voice. This opens up the opportunity for maintenance personnel to clean during the day without interrupting anyone who happens to be nearby. In turn, it allows owners and managers to cut back on maintenance hours and costs.
All in all, REV technology is one more innovation that has kept Advance at the forefront of industrial cleaning technology. It cleans better and more efficiently, using less water and fewer chemicals, all while doing so more quietly and neatly without splashing. Without a doubt, Advance is cleaning the hallway to the future.